WWE Raw on November 20 went live from Van Andel Arena, Grand Rapids, Michigan. It was the go-home edition of Survivor Series. The show hyped the Men's WarGames match featuring an Advantage match. Drew McIntyre addressed his actions from the week before. Nakamura faced Gable, Becky competed on the show, and much more.
Let's look back at everything that happened on Monday Night Raw.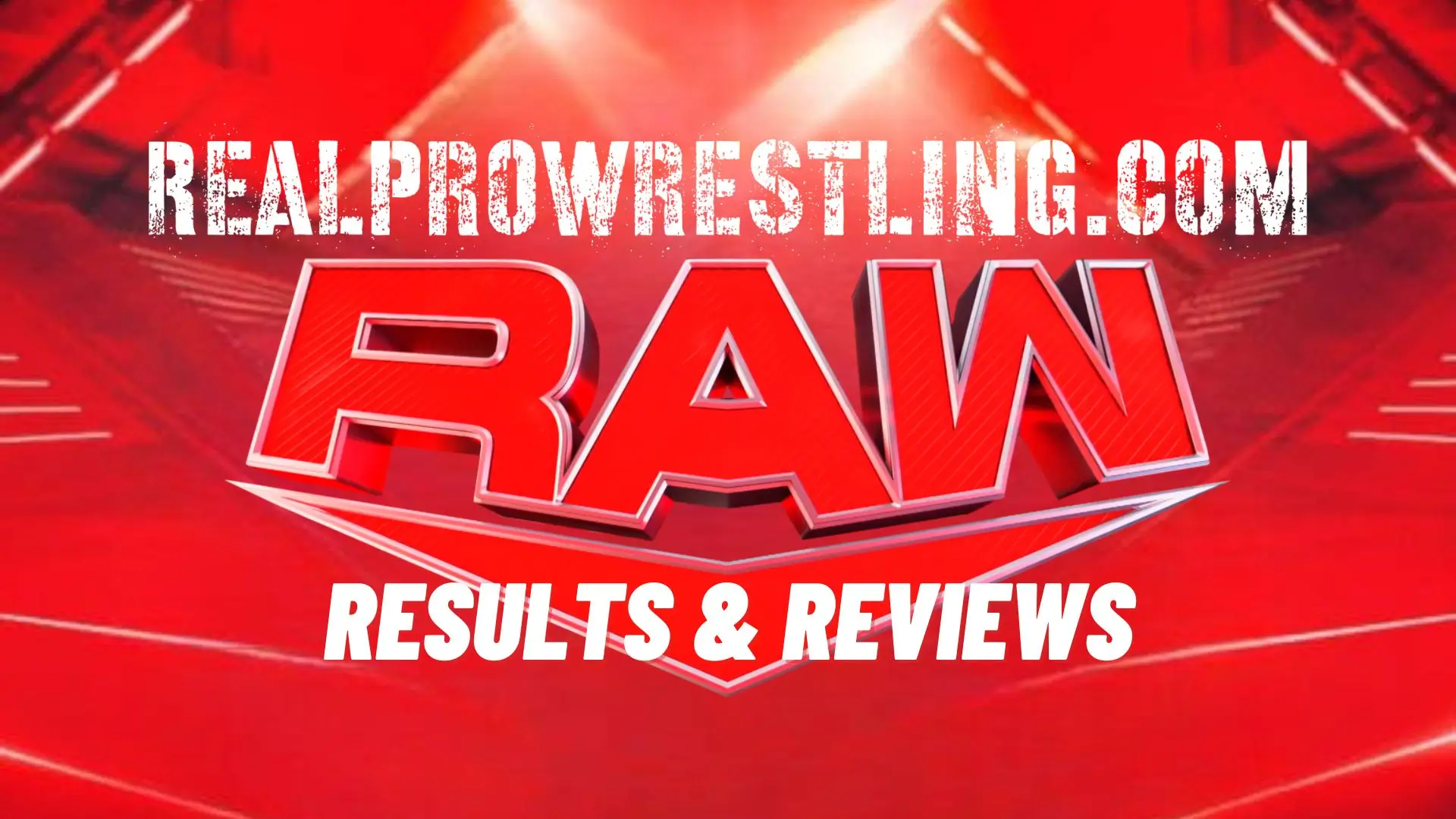 Drew McIntyre addressed his Actions
The show opened with Drew McIntyre in the middle of the ring. The crowd booed him, but he sarcastically said that he wasn't Dominik Mysterio; he had a right to talk, and people would listen.
He then talked about Jey Uso screwing him while he was in Bloodline. McIntyre said that if people think he has joined Judgment Day, they don't know him.
He declared that he would be at Judgment Day's side on Wargames. The reason is that he will get Jey Uso inside a cage to beat him. 
Jey Uso entered and walked down the ramp. He said Drew needs a beatdown or "YEET" down. Judgment Day stood along McIntyre.
Cody, Seth, and Sami joined Jey. As a brawl seemed to happen, Adam Pearce came out. He said Cody's team needed to find the fifth member by the night's end. He also announced a singles match for WarGames Advantage. Both teams will pick one member. 
Grades: B+
Analysis: The Scottish Warrior did a great job on the mic to open the show. The crowd chanted, "You Suck" at a time during the segment. Pearce made the rest of the show interesting with his announcements. 
Backstage: In the Judgment Day locker room, Priest said he would compete in the advantage match. Rhea Ripley cut him off and said they would discuss it with McIntyre. 
Singles Match
Nia Jax vs Raquel Rodriguez
Nia planted a brutal range early on. Rodriguez took out Jax with a crossbody outside the ring. Jax delivered a Samoan Drop onto the ring post. We saw a hurricanrana and a spinning elbow from Rodriguez. 
Jax squashed her with a Senton splash. In the end, Rodriguez failed to hit a powerbomb. Instead, Jax delivered her finisher for the win. 
Winner: Nia Jax
Grades: B-
Analysis: It was a decent showdown between two stronger women. Jax was talking trash and getting as much heat as possible, which was awesome. WWE did great to keep Rodriguez relevant after high-profile losses in the past.
Backstage: McIntyre approached Ripley and Priest and said he wanted to be in the advantage match. He also made it clear that he doesn't like Judgment Day. He is just with them because he despises Jey Uso. 
In another angle, we saw the face team discussing their fifth member, and Cody said he had talked to an old friend. Jey Usi was their member to compete in the advantage match. 
Singles Match
Becky Lynch vs Xia Li
The NXT Women's Champ, Lyra Valkyria, was at ringside. In the match, Lynch and Xia Li start with tackles and headlocks.
Lynch sent her out of the ring and delivered a basement slide and a diving clothesline. Becky escaped the camel clutch and hit Bexploder for a near fall. Li somehow survived the Dis-Arm-Her.
Lynch delivered a superplex from the top rope, but Li kicked out. Li hit the spin kick, but Lynch fell out of the ring. In the end, Becky won using a Manhandle slam. 
After the match, Damage CTRL entered from the crowd. Her team joined Lynch, and a brawl broke out. The babyface team stood tall in the end.
Winner: Becky Lynch
Grades: B+
Analysis: It was a more-than-expected match. Li losing was a bit concerning regarding her upcoming NXT Women's Title match, but they couldn't afford Becky to lose. The Damage CTRL angle reminded me of Survivor Series invades from the past. 
Singles Match
Johnny Gargano vs. Ludwig Kaiser
Before the match, Kaiser told Vinci to stay away. The match was good. In an amazing moment, we saw Gargano delivering a flying hurricanrana. Kaiser countered a suicide dive and delivered a running European Uppercut. 
Gargano hit his signature slingshot spear, and Ciampa hyped the crowd at ringside. Kaiser delivered a brutal Discus lariat but only got a two-count. Gargano delivered a head-scissor DDT. Kaiser responded with a rolling Death Valley Driver.
Vinci ran down to the ring. Kaiser shouted at him to go to the back. Gargano took the advantage and delivered One Final Beat for the win. 
Winner: Johnny Gargano
Grades: B
Analysis: The Imperium vs. DIY random singles matches havefeatured good-quality wrestling. Kaiser is getting much and much angry with Vinci. The storyline can go into an impending breakdown soon, or maybe WWE will hold it for the Royal Rumble.
4-Way Number 1 Contenders Match for Women's Tag Team Championships
Natalya and Tegan Nox vs Katana Chance and Kayden Carter vs Candice LeRae and Indi Hartwell vs Maxxine Dupri with Ivy Nile
The Champs, Chelsea Green, and Piper Niven were at commentary. Maxxine jumping on everyone at ringside was a fun spot. Dupri also delivered an Otis-like Caterpillar Elbow Drop and a vertical suplex. In the end, Nox got the win.
Winners: Tegan Nox and Natalya
Grades: C-
Analysis: It was a poor wrestling match and went longer than expected. The only fun things were Maxxine Dupri spots and the fun commentary from Green and Niven. 
Backstage: Gunther caught Kaiser and Vinci arguing. He supported Vinci and said that Kaiser had not been doing much for the prestige of Imperium. 
Battle of Words between The Miz and Gunther
The Miz entered the ring and said he respects every superstar. As he was going further, Gunther interrupted in mid-sentence.
The IC Champ cleared that he has zero respect for Miz. Gunther said that this ring mat is for fighting, not entertaining, and Miz is an entertainer.
Miz mentioned his idols like Shawn Michaels, Bret Hart, Macho Man Randy Savage, and others. He called Gunther a one-note robot. Miz warned Gunther that he must respect him or he will beat him at Survivor Series and become a 9-time IC Champion. 
Gunther mentioned Miz's locker room struggles during his early WWE days. Gunther shoved Miz and slapped him in the face. Miz angrily attacked Gunther, but the champ laid him out with a big boot. 
Miz hit a low blow on Gunther and delivered a Skull Crushing Finale. He stood tall with the Title to close out the segment. 
Grades: A
Analysis: It was an awesome segment. Gunther's promo game has improved during his feud with The Miz. Gunther made valid points about The Miz's past, too. Now, there's real hype for this match on Saturday.
Singles Match
Shinsuke Nakamura vs Chad Gable
Early on, the match was controlled by Gable. He used his takedown abilities. Gable delivered a hangman's DDT and a diving head-butt. Gable countered Kinshasa into Chaos Theory for a near fall. Gable delivered a full Nelson suplex, too. Nakamura hit a reverse exploder. Gable countered Kinshasa into Ankle Lock. In the end, Nakamura was victorious by a roll-up pin.
Winner: Shinsuke Nakamura
Grades: B-
Analysis: Nakamura is on good momentum, beating every Alpha Academy member. He needs a bigger opponent. A roll-up win might suggest a rematch. 
WarGames Advantage Match
Jey Uso vs Drew McIntyre
In a backstage segment heading into this match, Cody said his old friend was here. 
Jey Uso and Drew McIntyre battled to give their teams an advantage in the WarGames match. It was a decent match, with signature moves from both participants. McIntyre won using a Future Shock DDT. 
Judgment Day tried to take out Jey Uso after the match, but Cody and the team made the save with steel chairs. Rhodes said they have a fifth member.
He mentioned Legacy, Apex Predator, and Voices in the Head. It became obvious that it would be Randy Orton. However, the Viper never appeared in person. 
Winner: Drew McIntyre
Grades: B+
Analysis: It was disappointing to see how all hints confirmed that the fifth member was Randy Orton, but neither Orton appeared, nor his name was declared.
We are all set for Survivor Series WarGames now. Watching the heel team having an advantage looks great, and WWE did a great job with Drew McIntyre as the winner. 
It was a good go-home show overall. We got both WarGamesteams filled. Gunther and Miz delivered a clinical segment, too.