1/11/23 – KFC YUM Center, Louisville, KY
Commentary – Tony Schivone, Excalibur, Taz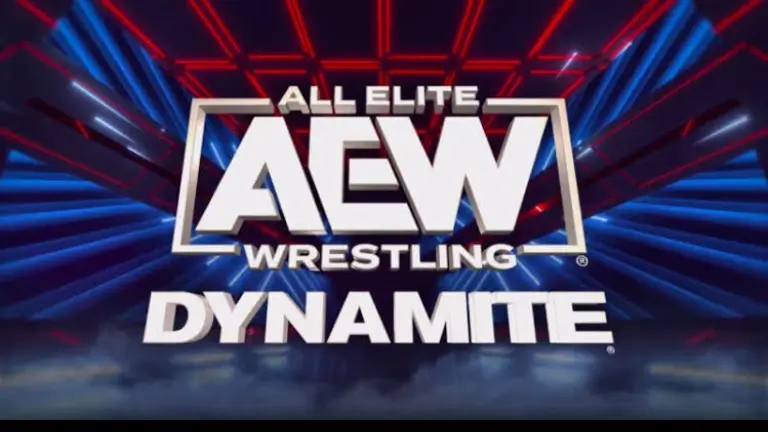 The show starts off with MJF and Renee Paquette talking about who he will pick as his partners tonight in the 4 on 4 match to get his title back from Jay White and The Bang Bang Gang.
MJF consults Adam Cole via a television monitor to get his opinion, he said he should consider Samoa Joe's offer (from October 25th edition of Dynamite). 
After MJF leaves the scene, Roderick Strong, Taven and Bennet come to talk to Adam, with Roderick saying "Adam" in this super annoying voice that annoys you just a little bit more each week. 
Roderick brings up the masked devil being MJF, Cole wants nothing to do with it and leaves his stream. The Devil face appears on the screen. 
AEW International Championship match
Orange Cassidy (c) vs Claudio Castagnoli (with Wheeler Yuta)
Claudio was out to hurt Cassidy to avenge his friend and Blackpool Combat Club member Bryan Danielson.
Castagnoli kneed the crap out of Cassidy, throwing him around like a ragdoll. There is massive visual difference between the two competitors with Claudio much bigger and powerful. 
Cassidy was taking such a beating that Hook came down to check on his friend, the referee ejected him and Yuta to the back. 
Back from the break Claudio reversed Cassidy in a giant swing then a sharpshooter, somehow after several submission Cassidy wouldn't quit. 
Castagnoli did a modified sleeper hold swing. Out of nowhere Cassidy hit the Orange Punch. Cassidy did a reverse Hurricanrana into a pin and sneaked the win.
Very one sided contest, Cassidy somehow got out of it as champ. Moxley came out to the ring, Cassidy ran in the ring again but got pummeled by Moxley.
Security tried to stop them but they got a beating also as Moxley continued to beat up Cassidy until he left leaving Cassidy on his back in a world of pain in the middle of the ring.
MJF backstage was seen knocking on Kenny Omegas door, Jericho answers but closes the door in his face. 
MJF gets ambushed by Wardlow who chokes him against the wall, he said he is going to take everything from MJF when he least expects it and lets him go. 
MJF walks away but around the corner The Acclaimed and Daddy ass are there waiting for him. Caster asked him to team with them but he walks away. 
Moxley is backstage, unhinged he says he going to beat the hell out of Cassidy at Full Gear and there is nothing he can do about it.
ROH Six Man Tag Team Title Match
Mogul Embassy vs The Elite (The Young Bucks and Adam "Hangman" Page)
I'm finding the Young Bucks a little flat at the moment, they don't really have any storyline going on for them and are just wrestling weekly. 
Besides Swerve Strickland the rest of The Mogul Embassy have not been booked or presented to be a threat or even given any time for the audience to know anything about them.
Kahn who looks like a million bucks was just getting pummeled in this match. Back from the ad break it was still the Mogul Embassy getting beat up with little to no offence. 
Finally Swerve Strickland interrupted the match with his  "Who's house" phrase, he said last week I was at your house,  looking at Page.
Page irate ran to get his hands on Strickland and went backstage leaving the Bucks outnumbered. 
The Mogul Embassy then beat the hell out of The Bucks with Kahn pinning Nick Jackson. New ROH Six Man champs The Mogul Embassy.
Sure the Mogul Embassy won the titles but for goodness sake make us the viewer at home care about them and invest some time in building them up. 
Backstage Hangman is getting held back by security as he is trying to get his hands on Strickland who is also getting held back. 
MJF backstage again is trying to find his 3 partners, he finds Darby Allin's dressing room and writes "Emo Bitch" on his door, he turns around and The Acclaimed and Daddy are there with a sign that says "Pick Us" and MJF walks away. 
Adam Copeland Interview with Tony Schiavone.Tony asks him about getting confronted by Darby Allin and Sting last week. 
He said he respects Sting and Darby Allin but the question is he going to team with them at Full Gear.
Christian interrupts at the top of the ramp with Luchasaurus and Nick Wayne. He said he is going to retire Sting at Full Gear.
He brings up Copeland's neck and says he should backdown or he will snap his neck.
Christian sends his goons in to attack Copeland who took them down, Christian came in and distracted him allowing Luchasaurus to clock him from behind. 
Christian was going to hit Christian with a chair on his neck but was saved by Sting and Darby Allin.
Copeland in a rage that his best friend tried to snap his neck speared Christian Cage and announced he will be Sting and Allins partner at Full Gear. 
Tony Kahn's Huge Announcement
All In tickets for next year will be on sale in a month for next year. Yep, that was the huge announcement.
Tag Team Match
Chris Jericho and Kenny Omega vs Angelo Parker and Matt Menard
Don Callis joins the commentary team.
Parker and Menard try to jump the team of Omega and Jericho but it was short lived. 
Parker trying to swing a baseball bat at Jericho but missed with Jericho nailing him with the Judas effect and gets the win. 
Callis grabs the mic and challenges them to a street fight match in 2 weeks on Dynamite. Kenny says he has Ibushi by his side to fight in the street fight, Callis said they were still a man short.
Jericho responds by introducing their 4th man and it's Paul White. Fletcher eats a fist from White and the rest of the Don Callis family retreats. 
Backstage Renee is with Jericho and Omega. The Young Bucks interrupt and question Omega with his alliance with Jericho and not having the back of the elite. Some tension here between these guys. 
AEW Womens Championship Match
Willow Nightingale vs Hikaru Shida (c)
I feel like Shida defends her title every show, with how much she is on the shows we never get to see anything else but matches from her, there needs to be more than this. 
Willow is involved in an odd storyline with Skye Blue and Kris Statlander, it's not great but at least it's something. This match had a very slow pace, it was almost like they were fatigued.
Willow nailed Shida with a spear and A DVD Driver, Shida somehow kicked out.
Shida nailed Willow with a running knee then hit her with a Shining samurai kick, this looked so weak and didn't even look like it connected. Willow was pinned.
Handshakes and hugs after the match until Toni Storm interrupted the love fest. Shida ran after her and hit Storm with a running knee and chased her to the back.
Julia Hart was now in the ring with Willow, Hart extended her hand, Sky Blue came out teased she was going to turn on Willow but ended up spraying blue mist in Julia Hart's face. 
This storyline is hokey and I don't think there is any salvaging it. 
Backstage The Acclaimed and Daddy Ass are at MJF again asking him to tag tonight, they give him a bag of things to wear if he picks them. He said he has one more team to try and it's Jeff Jarrett faction. 
Renee is backstage with Roderick Strong, Taven and Bennet, he calls Adam Cole and says "Adam" several times in that annoying voice complaining MJF never picked them. Cole tells him to shut the hell up. 
Eight Man Tag Team Match
Bullet Club Gold (Jay White, Juice Robinson and The Gunns) vs MJF, The Acclaimed and Daddy Ass
The Acclaimed come out and Max Caster destroys The Bang Bang Gang on the mic as he raps down to the ring.
MJF comes down to the ring with a "Scissor Me" shirt, he finally accepted Max's offer.
I find it funny how much bigger Billy Gunn is compared to everyone else in the match. 
MJF tells Juice Robinson he wants that "piece of shit" pointing to White. White comes in but retreats quickly in typical heel fashion. 
Billy Gunn comes in and faces off with his son Austin who takes a big right hand for disrespecting his dad. 
I liked how they kept Jay White away from MJF and didn't allow them to touch, making you wait for the PPV. 
The people wanted MJF to scissor with The Acclaimed and Daddy Ass but he wouldn't accept the gesture building upto the eventual moment. 
The Bang Bang Gang took out MJF's team mates outside the ring and now he was left with just him and Caster who made the hot tag to MJF who exploded, taking it to every member except White who scampered away. 
Just as MJF was about to do the Kangeroo kick White slipped back in hit the switchblade on MJF and pinned him. 
White was about to hit MJF with the title after the match but was stalled with The Acclaimed and Ass coming in and stopping it, White tried to hit MJF again but Caster got in the way and took a bullet for MJF. 
MJF checked on Caster after the match, Caster gestures for a scissoring, finally MJF did a four way scissoring with Acclaimed and Daddy Ass, giving the fans the moment they wanted. 
I liked how this show had a constant thread with MJF trying to find partners for his match, I thought this was one of the better Dynamites I have seen. 
Story threads and angles is what AEW needs to do to gain some momentum, they are trying a bit here and there but still there is a hell of a lot more they can do but a decent Dynamite none the less.