You can only count the number of wrestlers that have jumped from All Elite Wrestling to World Wrestling Entertainment on your hand, with only 4 active professional wrestlers leaving Jacksonville to head to New York, the first 3 to make the jump being Blair Davenport (formerly Bea Priestley), Cody Rhodes and Jade Cargill.
Priestley, whilst holding 10 years of experience in the world of professional wrestling, would see herself rebranded upon her debut in WWE NXT UK due to a lack of connection with the casual viewer, and understandably has already made leaps and bounds in making the Davenport character her own in front of the newfound audience in which she performs for.
Cargill, who has become a household name through her undefeated streak in AEW, had enough name value behind her to allow her to retain the Cargill name within the confines of the WWE.
Cody Rhodes already held an established brand within both WWE and the wrestling world as a whole through his first stint with the company that lasted 10 years and an impressive rebuild of his stock on the independent scene and within AEW.
That leaves the 4th member of this group, one that arguably outside of Rhodes holds the most name value to the casual audience, particularly the connection to WWE's most beloved era, that being Brian Pillman Jr.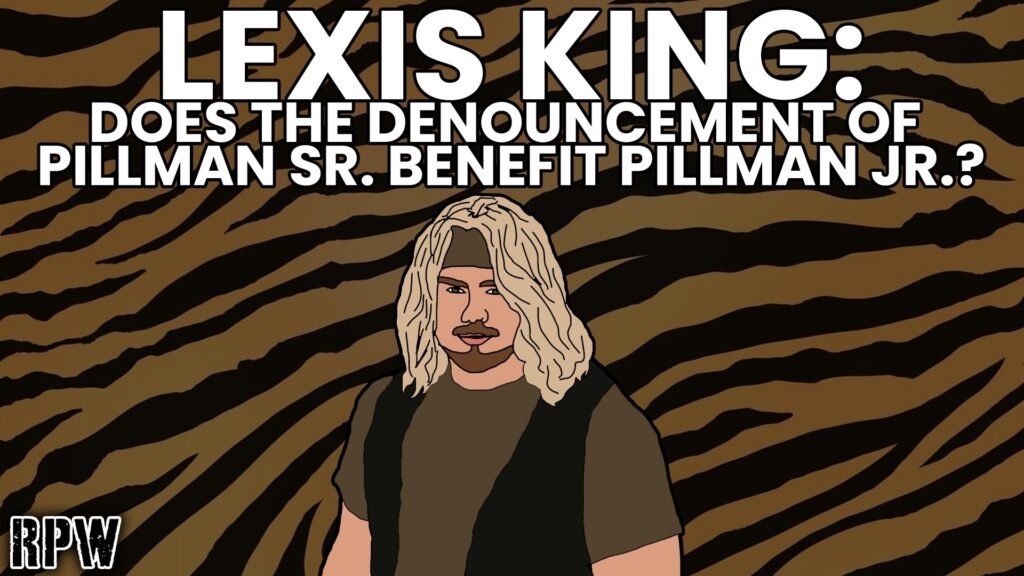 Legacy of the Pillman Name
The son of 'The Loose Cannon', his father had a celebrated career in World Championship Wrestling in the early 90's as 'Flyin' Brian Pillman as well as his time as part of 'The Hollywood Blondes' with another rather loose cannon in Stone Cold Steve Austin, who was more 'Stunning' in appearance as opposed to the move he would finish opponents with.
It wasn't until his run with The Four Horsemen, in particular the beginning of his later renowned run of blurring the lines between fact and fiction, or in wrestling terms, between a shoot and a work, that people started to truly find out the genius of Brian Pillman.
He would sign on with the WWF as it was known at the time after a brief run with ECW, a run that was designed to bring more heat to the Loose Cannon character after his firing from WCW by Eric Bischoff.
Blurring those same lines outside the constraints of the squared circle, his firing was done with the intention of bringing him back with legitimate heat, however he used the handshake deal to further boost his personal stock, taking his talents to the McMahon controlled empire from 1996 until his untimely demise in October of 1997.
While his run was short, it's been looked back upon with love and praise, with a run alongside his close friends The Hart Foundation and his infamous feud with his former tag partner in Steve Austin, which included the iconic 'Pillmanizer' injury angle that was named in honour of Pillman, as well as the "Pillman's got a gun" angle that in itself became a precursor of sorts to the kind of wild western style antics we'd see during the Attitude Era, albeit without the gun-wielding.
Pillman Jr.'s Time in AEW and Transition to WWE
Brian Pillman Jr.'s run in All Elite Wrestling, whilst not necessarily accomplished, wasn't without its glimpses of potential. A respectable team alongside Jungle Boy doppelganger and overall perplexer of Brodie Lee, Griff Garrison, The Varsity Blondes paid a fitting tribute to Pillman, the Hollywood Blondes and the 80's period in which Brian's father broke in during as a whole.
Brian's style matched that of his late father, and while he showed great talent both as a tag & singles competitor, he ultimately was not seen as much more than an enhancement talent for more regarded teams on the roster.
It was only days after the announcement that Pillman Jr.'s contract had expired with AEW that it was reported that a tryout at the WWE Performance Center had occurred, and shortly thereafter a contract with the WWE had been signed.
Promotional vignettes began airing on WWE NXT programming almost immediately, and whilst thinly veiled in their attempts to hide exactly who the vignettes were intended for, which heavily featuring 2nd and 3rd generation stars along with WCW Programming and a reflection of the distinctive leather vest and full-print tiger patterned t-shirt that his father had made famous, it was the USA Network themselves who would put out a press release confirming that Brian Pillman Jr was on his way to WWE NXT.
This would be the last time we would see Pillman Jr referred in this manner officially however, as Pillman Jr. would make his on-screen debut on October 11th 2023, 6 days after the 26th anniversary of his father's death, denouncing the Pillman name to become Lexis King.
All in the Name of Business
Now there's always been a level of distain for WWE's methods of rebranding professional wrestlers for the sake of trademarking and IP ownership, with only a few exceptions depending on what value their name holds to the typical WWE viewer.
The logic behind this, while frustrating is understandable, as they wouldn't allow someone to use either their real name or the name they used on the independent scene or elsewhere if the name itself didn't bring a level of excitement or interest, or in some cases the name that they previously used is attached to acts that they may have done in the past during their career that might disparage the overall image that WWE has built as a family friendly product.
This logic has clearly been applied in the instances to do with Blair Davenport, Jade Cargill and Cody Rhodes, as Rhodes and Cargill have either retained or built their brand up to the point that continuing the use of the name is beneficial to WWE as a whole, whereas Davenport hadn't done the same at the time of her hiring.
The tricky part about where Pillman falls is the fact that, whilst his career is still in its formative years and his run with All Elite Wrestling wasn't exactly trailblazing, the Pillman name holds a special place within the hearts of many a wrestling fan.
"I am Nobody's Junior" – Lexis King
The desire to go under the name Lexis King is also one that's easy to understand, with the surname 'King' being a tribute to his younger sister, Skylar King, as well as 'Lexis' in honor of his half-sister Alexis who performed briefly on the independent scene in 2008-09 as 'Sexi' Lexi Pillman before her own untimely demise in 2009 after an automobile accident.
There's no arguing that this move is more than understandable and has been wildly accepted within the pro wrestling world, and we're not here to try and argue that point.
Aside from that, the name 'Alex King', another tribute to Alexis and Skylar, was the very name he wrestled his debut match with in 2017.
What I'm looking to discuss is, from a business standpoint, whether or not the move to rename Brian Pillman Jr. will end up as profitable under the moniker 'Lexis King' without taking into consideration how Pillman Jr. wows fans in the ring.
Bloodlines and New Generations
First and foremost, the argument can begin around the love that the professional wrestling world and by default the WWE has for any multi-generational talent.
The names of Guerrero, Funk, Blanchard, Hart, Malenko, Von Erich, DiBiase, Orton, Mysterio, Hennig, Johnson and the aforementioned Rhodes among a long list of others have graced the screens of professional wrestling fans for decades, through father and sons and at times even include grandfathers and beyond.
The correlation between the members of these wrestling families add an extra layer of depth to the character that next represents the history of their family tree.
There are also instances that already exist within professional wrestling of stars avoiding the use of their family name to help build their own name or to allow for their character to have a legacy that doesn't get negatively effected through their family history.
Breakking the Mould
In WWE some famous examples in recent times have been Alberto Del Rio, son of Dos Caras, as well as Bo Dallas and the late Bray Wyatt, two characters that couldn't be further from one another until Dallas' recent re-invention into Uncle Howdy prior to his brothers passing, both the son's of Mike Rotunda or at times better known as Irwin R. Schyster. The example I want to compare Pillman Jr. to however, one that he may cross paths with during his stay within WWE's Performance Center, is that of Bron Breakker, son and nephew of Rick & Scott Steiner respectively.
Breakker's debut in the WWE was sudden and impactful, and while the correlation between him and his dog-faced father wasn't initially communicated on WWE television, the Internet Wrestling Community were already well-versed as to the connection that Bron had to the annals of wrestling history, and soon thereafter the Steiner relation was mentioned as well as an on-screen program that included Rick at the start of Bron's 2nd reign with the NXT Championship.
The 'Breakker' name was created in reference to Bron's time playing American Football, known for trying to "break people in half", however just before his debut in NXT 2.0, Bron's social handles displayed the name 'Rex Steiner', a move that had fans clamouring over the idea of a new generation of Steiner appearing on WWE television.
This is why there was a wave of disappointment and confusion when Breakker debuted with the ring name he is now synonymous with, and while he has forged a legacy of his own already in a short period of time, there will always be the question of 'what if' when it comes to his on-screen presentation and the desire to not have the Steiner legacy as clearly represented, especially now considering that the brothers did what some fans thought would never happen, reparations between Scott Steiner and the WWE the Steiner Brothers being inducted into the WWE.
Both Bron Breakker and Brian Pillman Jr. clearly carry the DNA of the men that came before them, in Brian's case it's visibly noticeable very quickly that he is the son of Pillman Sr., in Bron's case if the appearance wasn't enough like his father, the voice of his uncle radiates very clearly and can be easily connected to his lineage.
A difference that does exist between the two renamed characters and their legendary forefathers, and that is the fact that unlike the Steiner name, the Pillman name may not have had enough time in front of the eyes of a WWE audience for Pillman Jr.'s debut and debunking of the Pillman surname to be as significant as it is.
Paying Tribute
Can you imagine if Pillman got to, if only for a small period of time, live his dream to it's entirety by honoring his father in the largest wrestling company on the planet through NXT. Either he works his way up to a Main Roster promotion or when the time is right to do so in NXT, a heel turn that takes him to that next level, just like Brian Sr. did when he became the Loose Cannon.
This could've acted as one last tribute to his father as far as being his Junior in character, then transitioning into being the Lexis King character we'll presumably see in NXT.
We'll have to wait and see whether or not Brian Pillman Jr. has what it takes to make it in the WWE, that would've been the case with or without the father who made Lexis King refer to himself as 'Loose Cannon Jr.' when he took up his training with Lance Storm in 2017. If he's anything like his father, he'll forge a path out in professional wrestling his own way.